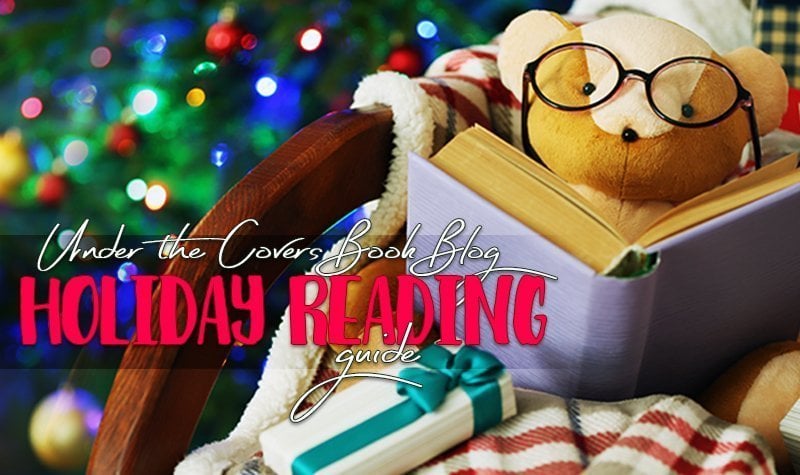 It's that time of year we all need to get into the holiday spirit
Maybe it's even more necessary this year. But the great thing is we have so many holiday reading recommendations to share with you all! Before we get to those I wanted to share a Christmas tradition I just found out about that I think all book lovers would enjoy
Jolabokaflod
Jolabokaflod, or "Christmas Book Flood" in English, is the Icelandic tradition of giving and unwrapping new books on Christmas Eve, cozying up with family, and reading into the night.
I don't know about you, but a tradition to give each other books and spend the holiday reading sounds perfect to me!
Red Velvet Crinkles and Christmas Sprinkles by Maria Imbalzano is a quick read at 81 pages, and it is perfect for those looking for a cozy winter romance to curl up with. Will the magic of the season help Bella save her parent's failing business, and convince her to forgive one-time-love Dean for the mistakes of his past? You'll have to read the novella to find out! Overall, a fun enemies-to-lovers love story that will leave you feeling all warm and fuzzy inside and craving the yummy baked goods mentioned in the book.
Recommended by: Dusty
available on kindle unlimited
WHY I RECOMMEND IT: I absolutely adored this holiday romance. I loved the dual POV from our two main characters, Grace and Noah, as well as the cast of meddling yet lovable side characters. This story was adorable right from the very beginning, with amazing banter, and a quaint, small town setting. What I loved most was that the bulk of it took place in the months leading up to Christmas, rather than the days or weeks. It gave you a holiday romance without smacking you over the head with Christmas cheer. This one is available on Kindle Unlimited, and would be perfect for someone looking for a holiday romance without going full send on the Christmas vibes.
Recommended by: Amanda
So, This is Christmas is the perfect YA rom-com for your holiday season! The book follows private school outcast Finley returns home to Christmas, Oklahoma only to find Arthur Chakrabarti Watercress, her very British classmate at her Grandma Jo's Inn demanding a proper American Christmas. This book is a warm hug for your heart; I couldn't stop smiling the entire time reading it! Finley and Arthur had the most adorable banter and I immensely enjoyed Finley's hilarious inner dialogue. Both main characters had such distinct voices and I felt myself falling for Arthur right alongside Finley. Not only is this a YA romance, it also tackles complicated friendships, difficult family relationships and small-town views. There were twists I didn't see coming, which added a rich layer of drama to the story. I enjoyed this book so much!
Recommended by: Allie
Francesca's Recommendations
[foogallery id="152677″]
available on kindle unlimited
The Reindeer Falls series from Jana Aston is a collection of three novellas that bring everything I'm looking for during the holiday season. The Winter sisters (named Holly, Ginger, and Noel so you know that they're all about Christmas) live in the small town of Reindeer Falls and their stories are full of all the holiday shenanigans you'd expect. The first book, The Boss Who Stole Christmas, is about Holly getting stuck on a last-minute business trip with her grinchy boss. Of course, spending time together changes things between them. The second book, If You Give a Jerk a Gingerbread, is about Ginger entering the Great Gingerbread Bake Off. But a sexy celebrity chef has showed up in town to give Ginger an additional challenge towards winning. The final book, The One Night Stand Before Christmas, is about Noel having a one-night stand with Santa. She thought she knew who it was, except she was wrong.

Once the holiday season comes around, small town romances are pretty much my go-to. A series of small town romances set in a town obsessed with Christmas? Even better. These stories are fun, steamy, and full of cozy Christmas vibes. Jana Aston is so skilled at making quick novellas still tell full stories and let us fall in love with the characters. This series is no exception. I definitely recommend picking these up with a warm blanket and a cup of hot chocolate!
Recommended by: Liz
available on kindle unlimited
Looking for a charming, festive read? 10 Blind Dates by Ashley Elston is the perfect book to cozy up with hot chocolate under the holiday lights. This YA book follows Sophie, who is unexpectedly dumped by her boyfriend right before Christmas. In an effort to cheer Sophie up, her large extended family decides to set her up on 10 blind dates during the week leading up to New Years.The rule is, each family member has full control of 1 date; the activity and the boy. We follow Sophie's crazy dating adventures as she puts herself out there and experiences life in a way she never expected. The romance is adorable, but I will not spoil who the love interest is…there are so many possibilities! This endearing book has a wonderful array of interesting characters, lovable romance, and festive holiday shenanigans!
Recommended by: Sarah
Nick Winters and Noel Carter have been best friends since the cradle, making Nick and Noel's Christmas Playlist the ultimate friends-to-lovers holiday romance. Hall created such wonderful characters, and you can't help but fall in love with Nick and Noel as they fall in love with each other. Hall crafted detailed stories for both Nick and Noel, all while building up that will they/won't they tension. With the heat turned up to eleven, Hall gave us the sugar and spice of the holiday season. This friends-to-lovers is steamy and full of that friends-to-lovers tension you know you love. Featuring two friends who finally move from knowing each other's favorite songs to knowing each other intimately, Nick and Noel's Christmas Playlist is an all around fun read and is definitely on my list of favorite holiday books.
Recommended by: Jen
The Mistletoe Motive
The Mistletoe Motive by Chloe Liese will make you want to grab a cup of peppermint hot cocoa and a fuzzy blanket while reading. The cozy atmosphere is enhanced if you listen along to the playlist Chloe created for the novella. True to what readers have come to know and love from Chloe, she takes us on a slow burn journey that will leave you looking at book ladders differently. The autism, demisexual, and type 1 diabetes representation made this reviewer feel seen. As they journey from enemies to lovers, you'll fall in love with Gabby and Jonathan in this steamy and perfect tale. Trust me when I say that you don't want to miss this holiday romance that will have you looking forward to snow and the Holiday season.
Recommended by: Izzy
Still on our TBR
[foogallery id="152679″]
I adore this book, which is the first in a trilogy. This is a winter fairytale inspired by Russian folklore. While reading this story it's impossible not to love and root for the protagonist, Vasilisa. Vasilisa or Vasya lives up to the reputation of her numerous fairytale namesakes. She is both brave and beautiful. At the same time she is also a girl desperately trying to escape being caged. There is also a hint of romance with the mysterious Morozko the Winter King, which leaves the reader desperately wanting to get their hands on book two so that they could see what is next for Vasya and Morozko. Katherine Arden is a master at creating an atmosphere which feels both fairytale-like and menacing. I definitely thing that The Bear and the Nightingale makes for a perfect winter read.
Recommended by: Mariya
Rachel Rubenstein-Goldblatt is the most famous Christmas romance writer, but keeps her secret from her Jewish family. When her publisher insists she writes a Hanukkah romance, suddenly her inspiration is gone. Rachel attends a Jewish music festival on the first night of Hanukkah, The Matzah Ball, for some inspiration when she runs into her childhood archenemy, Jacob Greenberg. As they spend more time together, Rachel finds herself drawn more to Hanukkah and Jacob. Besides the romance being absolutely adorable in this book, the characters are extremely lovable. While Hanukkah isn't as "magical" as Christmas, Meltzer does a beautiful job describing the holiday and the Jewish community. This book brought me back to my childhood days of celebrating Hanukkah and if you're Jewish, you might feel the same way. If you don't know anyone who is Jewish, this book is a wonderful introduction into the holiday. If you're looking for a winter romance, I highly recommend The Matzah Ball.
Recommended by: Serenity
I've been a huge fan of Sophie Kinsella for a long time, since I was in high school, and while I've loved and enjoyed all her novels, the Shopaholic series remains my all-time favorite. If you are not familiar with the series, the Shopaholic series narrates the adventures of Becky Brandon, née Bloomwood, a woman whose love for shopping often gets her in trouble. Christmas Shopaholic is the latest and ninth book in the series in which Becky, for the first time, is hosting Christmas at her home, but it's not easy when everyone has their own demands regarding food, traditions, and what to watch on tv. Full of hilarious adventures, misunderstandings, and laughs, Christmas Shopaholic can easily be read as a stand-alone, if you haven't read the previous books (although I highly recommend them!), and it is a funny, witty, addictive read that it will get you right in a Christmas and festive mood!!!
Recommended by: Noemi
Want even more holiday book recommendations?
Check our our previous years recommendations:
2018 | 2017 | 2016 | 2015 | 2014 | 2013 | 2012 | 2011
What are your favorite holiday books this year?